Hélène Margotin Calleja
partner and co-founder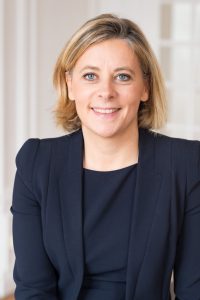 Specializing in employment law, Hélène focuses in particular on advisory work.
Accordingly, she assists French and foreign companies with the legal aspects of human resources management, both on a daily basis, and on specific projects or complex operations. She also advises international groups on the management of employment relationships and assists them with setting up and developing their businesses in France.
She has built up extensive expertise in individual labor relations (health at work, psychological/social risks, high-risk redundancies) and in the field of corporate governance.
She is particularly active with legal issues concerning the status of managers (employment contracts, corporate office, management packages and performance-based incentives, expatriation, etc.) and with the amicable or contentious departure of corporate officers and senior executives (revocation, dismissal, non-competition, etc.).
She also regularly works with business managers and top executives to negotiate their status at the time of hiring and when they leave the Company. She assists them at the pre-litigation stage and at the litigation stage where required.
As well as advising clients, Helene also represents them in the course of litigation before the employment and social security courts.
Prior to founding BLM Associés, Hélène worked 17 years in the Employment Law department at August & Debouzy.
She is a member of the Paris Bar since 2000 and holds a Master's degree in Employment law (DEA droit du travail) from Paris II ­Panthéon-Assas University and a post-graduate degree in Business and Corporate Law (Institut de droit des affaires).
Practice areas

Automobile industry
Oil and Gas industry
Healthcare
Distribution
Transportation
Banking and Finance
Insurance
Consulting and Training

Languages

Contact

Tel. : + 33 (0)1 42 73 72 26
Fax : + 33 (0)9 70 06 58 78